Every year, my Christmas music playlist blasts Disney Christmas music from the parades in the parks to our favorite characters singing "Santa Claus is Coming to Town." The holiday spirit is so contagious, there is no way I could imagine this holiday season without Disney. If you are like me, you have a hard time not finding some way to incorporate Disney into your holiday season and traditions. But if you are some of those lucky people who are spending your holiday at Disney World, I have to ask, "Why didn't you take me?!" All joking aside, I wanted to talk about how to make the most out of your holiday trip to Disney.
From lights, music, and décor, Disney World can bring out the most magical holiday memories and smiles for your family and friends. It is no surprise that Disney World puts the holidays on steroids, I mean who else can have a 65 foot Christmas tree filled with magic in the Magic Kingdom? With 4 theme parks, I guarantee you will not be short of any holiday cheer. So where do you start? Christmas treats like ginger bread men, snapping pictures of all the Christmas lights and decorations, riding the rides, or perhaps watching a Christmas show? Well I will break down as many of the highlights as I can in this blog post. Of course I can't tell you everything since magic can happen any time and any where, especially during the holidays.
Let's start our holiday journey at Animal Kingdom. Aside from the giant animal themed Christmas tree that greets you at the park, you will be able to go wild Christmas style and jump for joy like a gazelle at the Animal Kingdom. What better way to go wild than see Mickey's Jingle Jungle Parade?!
You will join Mickey and his Savannah friends as they as they celebrate the season safari style. Look at your times guide for the parade time or ask any cast member. Don't forget to visit Santa Goofy at Santa Goofy's Wild Wonderland for a festive holiday family photo.
If going wild isn't enough for you, let's head on over to the Hollywood Studios for some holiday lights, cameras, and action. If you want to add an old Hollywood feel to your Christmas celebration, you will not want to miss the feeling of walking down Sunset Boulevard or the Streets of America both during the day and the night. You can expect to find the streets of the Hollywood Studios lined with garland, lights, and wreaths. There's a charming old-fashioned feel to the décor that will bring back memories of holiday gatherings gone by and make you crave some hot chocolate.
But you will want to stick around at night so you can see The Osborne Family Spectacle of Dancing Lights.
Each evening, millions of twinkling bulbs are used to create a dazzling spectacle of Christmas joy. Almost every surface is covered in twinkling lights and it is truly a Christmas sight to be seen. The synchronized lights dance to a high-energy holiday symphony that will get you caroling in the streets and dancing around like Frosty the Snowman. Make sure you stick around for a little snowfall to make this picture perfect sight even more special.
From out-of-this-world lights, to Christmas around the world, you will want to visit EPCOT to see how the holidays are celebrated in other cultures and countries. I always joke around about EPCOT saying that I love eating around the world, maybe because I just love food, but let me tell you I am not joking when I say you must eat around the world, especially during the holidays. So many of our holiday memories and traditions revolve around food, whether it is making sugar cookies or roasting a turkey, food is such an important part of the holiday spirit. Now eating or snacking around the world in one day can be hard on the tummy, but who doesn't get indigestion around the holidays? I am not suggesting that you eat everything I am going to post about, but I do hope that trying one or a couple of these tasty treats makes your holiday extra special and warms your heart. So here they are, the holiday treats around the world with locations and descriptions.
Promenade Refreshment
Savory Seasonal Waffles - Turkey waffle (stuffing batter, turkey, gravy and cranberry relish); Sweet Potato Casserole waffle (sweet potato batter, toasted pecans, marshmallows and caramel sauce)
Hot Holiday Twinings Teas - Chai, Pumpkin Spice Chai, Christmas, Pure Mint Tea with Chocolate
Flavored Hot Chocolates - Toasted Marshmallow, Hazelnut, Traditional, Spiced Cider with Frangelico Liqueur
Canada
Popcorn cart - Pecan Maple Bark
United Kingdom
Beer cart - Hot Applejack Cider
France
Patisserie - Buche de Noel au Chocolat (Chocolate Christmas Log)
L'Artisan Glaces - Gingerbread ice cream, Croque glace (ice cream sandwich made on a brioche rolls and served with chocolate or raspberry sauce - sandwich is hot pressed, but the ice cream doesn't melt)
Japan
Kabuki Cafe - Teriyaki Chicken Karage
American Adventure
Gingerbread men, chocolate chunk cookies, sugar cookies, hot chocolate, apple cider, peppermint bark, sparkling wines, Cocoa Candy Cane (hot chocolate with peppermint schnapps topped with whipped cream)
Italy
Hot chocolate with Caffe Espresso Liqueur
Germany
Sommerfest - Hot spiced wine, holiday fruit cake
Christkindlmarkt - Werther's Original Caramel Mocha Iced Coffee, Werther's Original Hot Salted Caramel drink
China
Joy of Tea - Happy Face Fried Cake
Norway
Kringla Bakeri - Traditional Rice Cream
Mexico
Besides eating, the holidays at EPCOT also highlight another important holiday tradition, storytelling. Stories of Santa Claus and other holiday tales are showcased at World Showcase.
At the
American Adventure
you can listen to the stories of Santa and Mrs. Claus, Hanukkah, and Kwanzaa. Also, you can hear the Voices of Liberty sing some of your family's favorite Christmas songs in a harmony that cannot be matched.













In Canada you can follow the members of Off Kilter as they become Canadian Holiday Voyageurs on a musical tour to discover the country's holiday customs.
When you visit China, you can hear The Monkey King recant how to celebrate the Chinese New Year.
In France you can hear the story of Pere Noel with the smell of French pastries wafting though the air.
Between snacking on caramel and pretzels, you can hear a story from Helga, who reveals the story of the first Christmas tree and her first nutcracker in Germany.
At the
Italy
pavilion, you can hear the tale of
La Befana, Italy's good Christmas witch, who celebrated her first Christmas 2,000 years ago.
When you make your way to Japan, make sure you hear the story of the Daruma doll and how thethe Japanese New Year is celebrated.
In Mexico, you can hear the story of The journey of the Los Tres Reyes Magos (The Three Kings) to the Posada.
Across the world, and the lagoon, Morocco Drummer Taarji tells the customs of Ramadan and Ashura.
Just a hop, skip, and a jump around World Showcase in Norway, Sigrid will tell the story of Julenissen, the trouble-making Christmas Gnome.
Last but not least, you can hear the tale of Father Christmas in the United Kingdom.
If tasting treats and listening to some of the great holiday stories aren't enough, then you can get the experience of a lifetime if you attend the Candlelight Processional. You can hear the Christmas story with a giant choir and a celebrity narrator. Trust me, it is one of the best and most anticipated holiday events at Disney World.
Seriously tickets for this event go quickly because it is so popular so here is my tip: get the dining package. By getting the dining package, you can enjoy a meal at one of Epcot's restaurants, while guaranteeing you a seat for the show and a special viewing area for IllumiNations. At times this is THE only way to get a seat. For more information on the dining package and how to book visit
https://disneyworld.disney.go.com/dining/epcot/candlelight-dinner-packages/
or call 407-WDW-DINE.
To end your holidays around the world with a bang, make sure to check out IllumiNations, which has a special holiday ending and extra sparkle for the holiday season.
Just a monorail ride away, you can celebrate the holidays at the Magic Kingdom. Whether you are walking right down the middle of Main Street U.S.A. or in the heart of Frontierland, the Christmas spirit is everywhere. With so many lands to visit and with different theming, you will be nothing short of lights, wreaths, garland, and those special Disney touches. But let's face it, there is a lot of ground to cover in the Magic Kingdom and I am sure you want to make the most out of it. So what should you do? Definitely take your time walking around the different lands looking at all the decorations and riding the rides, because that is what the Disney-goer does best. But you will also want to enjoy attending Mickey's Very Merry Christmas Party at night. Not only will you be sipping the most delicious hot chocolate and snacking on Christmas cookies, but you will get to see the Christmas parade, sparkling lights on Cinderella's Castle, special holiday entertainment, and a spectacular version of holiday Wishes! This event is truly unforgettable and unbelievable. Of course, some of the most popular attractions are open for your enjoyment and with little wait times. The party begins at 7:00pm and ends at midnight. Here is a list of some of the goodies that are in store for you during the party: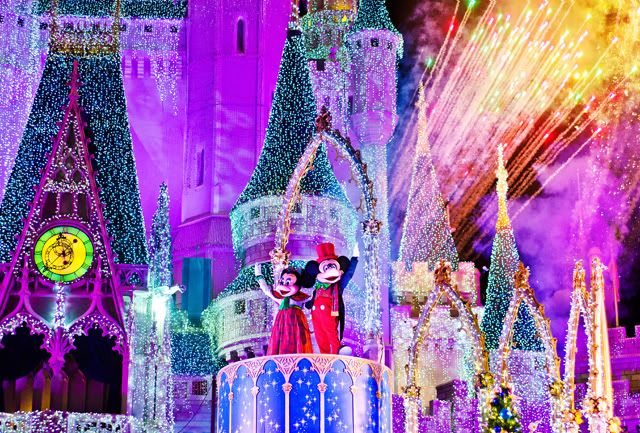 Castle Dream Lights - See the castle transformed into a beautiful display of holiday lights right before your eyes!
A Totally Tomorrowland Christmas Show
Character Dance Parties
Woody's Hootin' Holiday Open House - Diamond Horseshoe
Club Tinsel - Cosmic Ray's Starlight Café
See it snow on Main Street!
Enjoy Christmas cookies and hot cocoa at various stations throughout the park.
The Crystal Palace
Sunshine Tree Terrace
Columbia Harbour House
Pinocchio Village Haus
Cosmic Ray's Starlight Café
Some of the most popular attractions will remain open during the party!
Special Mickey's Very Merry Christmas Party merchandise available!
Emporium
Uptown Jewelers (pins only)
Plaza del Sol Caribe Bazaar
Frontier Trading Post (pins only)
Heritage House
Fantasy Faire
Mickey's Star Traders
Meet some of your favorite characters throughout the park! You never know who you'll run into!
For more information on how to get your tickets for Mickey's Very Merry Christmas Party visit
https://disneyworld.disney.go.com/events-tours/magic-kingdom/mickeys-very-merry-christmas-party/
Besides Mickey's Very Merry Christmas Party, you will want to check out Mickey's Once Upon A Christmastime Parade during the day for some great pictures. Check your times guide for the day to make sure you know the time and where you want to be to catch the parade so you get the perfect view.
You will also want to check out Cinderella's Holiday Wish Stage Show. See Fairy Godmother and Cinderella transform the Castle into a snow-kissed winter spectacular.
Of course you don't want to miss out on visiting Santa Claus! You can visit him at the Tour Guide Gardens next to City Hall. You can also visit Santa during Mickey's Very Merry Christmas Party until he's needed for his very important role in the parade.
Last but not least you will want to ride the Jingle Cruise (aka the holiday themed Jungle Cruise in Adventureland). Finally Disney World got a holiday ride overlay and it is as cute as can be. On the Jingle Cruise, you will join homesick Jungle Cruise Skippers on a holly jolly adventure stuffed with seasonal shenanigans from stem to stern to spread a little holiday cheer.
If you want to spend more time out of the parks and away from the crowds, have no fear! The holiday spirit can be found everywhere! - including the resorts. Here are some ways you can spread your holiday festivities around the Disney World Resort:
Carol over to the Grand Canyon Concourse at Disney's Contemporary Resort to find a gigantic gingerbread holiday tree, complete with ornaments, candy canes and presents. Then, savor the tastes of the season, including chocolate peppermint cookies and Monorail shortbread.
Marvel at the life-size gingerbread house, built in the lobby at Disney's Grand Floridian Resort & Spa. Step right up and come across freshly baked, homemade items for purchase, such as gingerbread shingles and chocolate-peppermint bark (yum!).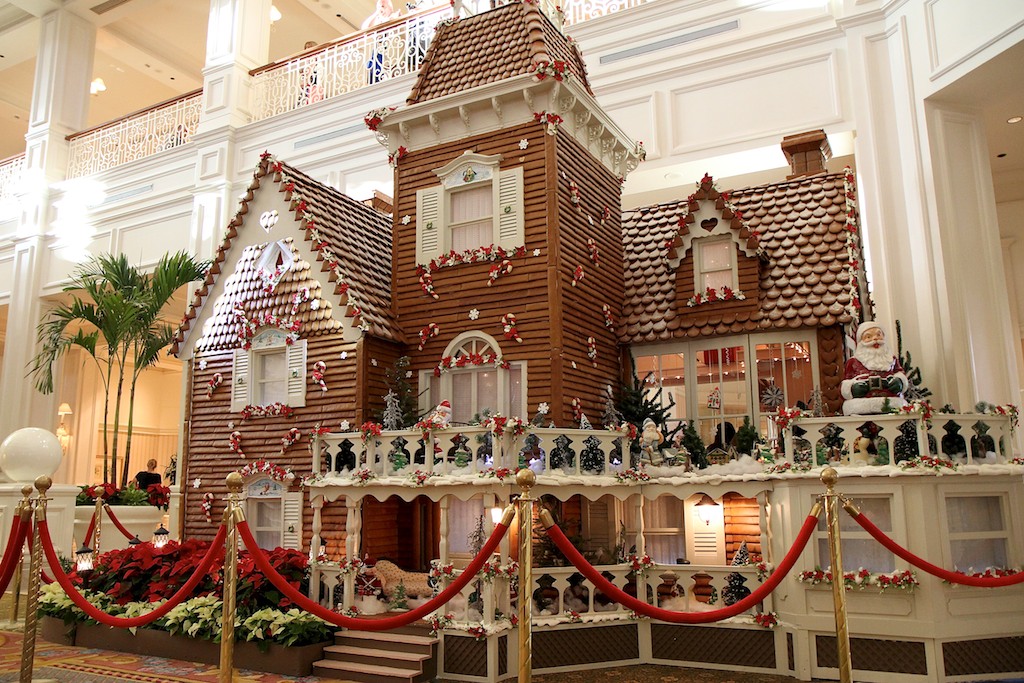 Spin around Disney's Yacht and Beach Club Resorts as you bask in the majesty of a life-size, edible spinning carousel.
Going on a horse-drawn sleigh ride is a fun way to celebrate the season at Disney's Fort Wilderness Resort and Campground. The ride can accommodate 4 adults or 2 adults with 3 children ages 9 and under.
If travelling to other resorts isn't on your itinerary or something you would like to do this holiday season, you can create a little holiday magic in your own room at the resort you are staying. Make this Christmas one to remember with an over-the-top, personalized holiday surprise prepared by Mickey and Minnie Mouse, set up in the comfort of your Walt Disney World Resort hotel room. For some holiday and Christmas ideas visit
http://disneyworld.disneyfloralandgifts.com/category/holidays/christmas.do?sortby=bestSellers&nType=2
or call (407) WDW-GIFT or (407) 939-4438 to speak directly to a Dream Maker.
My last suggestion for spending your holidays at Disney is to take the Yuletide Fantasy Tour. You will head backstage and learn just how the elves decorate Disney World for the holidays. On the 3 hour tour you will:
Meet the Cast Members of Holiday Services, the "elves" who create the decorations used to dress up Walt Disney World Resort theme parks and hotels.
Explore World Showcase and hear how holidays are celebrated around the globe: Christmasfest in Germany, the legend of La Befana in Italy, Hanukkah and Kwanzaa at The American Adventure, and O-Shogatsu (New Year) in Japan.
Get an up-close look at the traditional trimmings of Main Street, U.S.A. and see a Currier & Ives-themed Christmas bringing the spirit of Santa Claus to life.
Visit a Resort hotel and learn how the lavish holiday atmosphere is created through the grand-scale application of color, texture, architecture, illusion and attention to detail.
And the best part, each Guest will also receive a special holiday keepsake!
Basically this tour is perfect for a one day, cram in all the holiday fun kind of experience without trying to see it all yourself. It is also perfect for your family and friends who wonder just how Disney does it or the curious mind inside of you. It is a ton of fun and worth 3 hours, trust me. I did this tour once and I was just in awe! It is highly recommended by myself and family who got to know more about what it takes to make Disney World so magical during the Christmas season. To book you tour, call 407-WDW-TOUR or 407-939-8687.
With all of these wonderful experiences and sights to see, your holiday at Disney World will be nothing but magical. I highly suggest taking a lot of pictures, soaking up all the Christmas fun, trying some holiday treats, and of course spreading some holiday cheer.
To end this post, I want to wish you a very merry Christmas and happy holidays. As the song goes, "from all of us to all of you, a very merry Christmas."